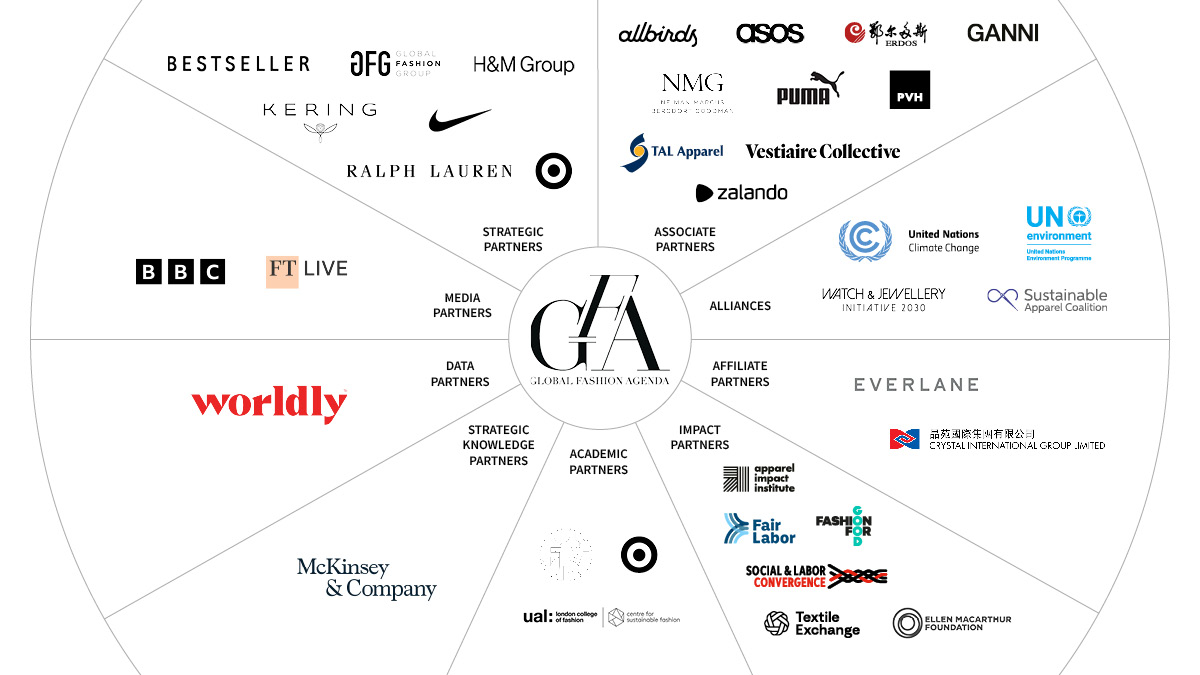 GFA Ecosystem
Strategic Partners
Our Strategic Partners are a small group of hand-picked companies, representing different market segments and geographies, who lead by example in their dedication to drive sustainable progress and provide essential leadership to support Global Fashion Agenda's mission. They act as a first sounding in shaping our sustainability agenda and play an active role in content development, in particular by shaping and signing off on the CEO Agenda.
We're proud to work with some of the world's leading companies, all of whom play a vital role in driving sustainability in their sectors
BESTSELLER

Strategic Partner

BESTSELLER is an international family-owned fashion company founded in 1975 in Denmark. Today, the company has more than 17,000 dedicated employees globally. BESTSELLER provides fashion clothing and accessories for women, men, teenagers and children. The BESTSELLER group is home to brands such as JACK & JONES, ONLY, VERO MODA and many more. Products are available online, in 2,700 branded chain stores and in 20,000 multi-brand and department stores across Europe, the Middle East, North America, Latin America, Australia and India. At BESTSELLER, they aim to bring 'Fashion FWD' until they are climate positive, fair for all and circular by design – this is their ultimate ambition, their North Star. It guides their strategy, their goals and the action they take to become as sustainable as possible, as soon as possible.

Global Fashion Group

Strategic Partner

Global Fashion Group (GFG) is the leading online fashion & lifestyle destination in Latin America, the CIS, Southeast Asia and Australia, connecting thousands of global, local and own fashion brands to a market of more than one billion consumers. Powered by a best-in-class operational infrastructure, which is fashion-specific and tailored to local market needs, GFG is focused on creating inspiring and seamless customer experiences – from discovery to delivery. GFG's vision is to be people and planet positive, worldwide – by operating the business within planetary boundaries and applying the highest duty of care to its people and supply chain. PATRICK SCHMIDT, CO-CEO OF GLOBAL FASHION GROUP: "GFG is proud to be Global Fashion Agenda's newest strategic partner together with some of our peers and industry influencers. One of the key ways to create even more impact in executing GFG's People & Planet Positive agenda is through industry collaboration. As the leading online fashion & lifestyle destination in growth markets, together with our customers, we are in a very unique position to help drive meaningful change, and this is another step in GFG's journey."

H&M Group

Strategic Partner

H&M GROUP's business idea is to provide fashion and quality at the best prices in a sustainable way. Its aim is to make fashion sustainable and sustainability fashionable. One of the ways that H&M Group does this is by making sustainable fashion choices available, attractive and affordable to as many people as possible. H&M Group uses its size and scale to lead the change towards a more sustainable fashion future.

A global Luxury group, Kering manages the development of a series of renowned Houses in Fashion, Leather Goods, Jewelry and Watches: Gucci, Saint Laurent, Bottega Veneta, Balenciaga, Alexander McQueen, Brioni, Boucheron, Pomellato, DoDo, Qeelin, Ulysse Nardin, Girard-Perregaux, as well as Kering Eyewear. By placing creativity at the heart of its strategy, Kering enables its Houses to set new limits in terms of their creative expression while crafting tomorrow's Luxury in a sustainable and responsible way. We capture these beliefs in our signature: "Empowering Imagination".

NIKE, based near Beaverton, Oregon, is the world's leading designer, marketer and distributor of authentic athletic footwear, apparel, equipment and accessories for a wide variety of sports and fitness activities. Wholly-owned Nike subsidiary brands include Converse, which designs, markets and distributes athletic lifestyle footwear, apparel and accessories; and Hurley, which designs, markets and distributes surf and youth lifestyle footwear, apparel and accessories. Read more about Nike's EARNINGS RELEASES AND OTHER FINANCIAL INFORMATION and stay updated on NIKE NEWS. Nike's latest SUSTAINABLE BUSINESS REPORT also details how Nike is working towards creating a more sustainable future.

Ralph Lauren Corporation

Strategic Partner

Ralph Lauren Corporation (NYSE:RL) is a global leader in the design, marketing and distribution of premium lifestyle products in five categories: apparel, footwear & accessories, home, fragrances and hospitality. For more than 50 years, Ralph Lauren has sought to inspire the dream of a better life through authenticity and timeless style. Its reputation and distinctive image have been consistently developed across an expanding number of products, brands and international markets. The Company's brand names—which include Ralph Lauren, Ralph Lauren Collection, Ralph Lauren Purple Label, Polo Ralph Lauren, Double RL, Lauren Ralph Lauren, Polo Ralph Lauren Children and Chaps, among others—constitute one of the world's most widely recognized families of consumer brands. For more information, go to HTTPS://CORPORATE.RALPHLAUREN.COM

Guests are at the heart of everything TARGET does. Target believes in making smart decisions and taking action across its business to care for the planet, while serving guests' needs. Target is committed to using resources responsibly, and designing its operations, products and services to be sustainable.

Associate Partners

Our Associate Partners are a group of select companies who are sustainability leaders or have the aspiration to improve their sustainability performance, representing companies of varying size, segment and geographies. They provide additional feedback and input in content developed by Global Fashion Agenda.

Neiman Marcus Group

Associate Partner

Neiman Marcus represents the finest and most unique merchandise the world has to offer. It evokes images of preeminent designers and elegant fashion, luxurious furnishings and incomparable gifts. Since its inception in 1907, Neiman Marcus has operated by a fundamental and abiding principle: to exceed the customer's expectations. Today, the tradition behind Neiman Marcus supports one of the nation's leading specialty integrated retail organizations with more than 5.1 million gross square feet of store operations in the United States, including 37 Neiman Marcus stores, two Bergdorf Goodman stores and five Last Call stores. Neiman Marcus online offers customers the leading assortment of luxury merchandise for women, men, kids and home.

Vestiare Collective

Associate Partner

We are the Vestiaire Collective. And we really love fashion. Fashion is brilliant at creating desire, building extraordinary worlds. But let's face it, the industry also fuels some of the world's biggest problems. Overconsumption. Overproduction. Climate change. Work ethics. Etc. That's why we transform it for a more sustainable future. But this is not about loving fashion any less. In fact, we need the world to love it more. The planet's favorite fashion is the one that already exists. It's called pre-LOVED fashion for a reason. Because it demands more. More hunting, more effort, more commitment, more obsession, more goodbyes, more caring, more people like you. The more our collective grows, the bigger our impact. That's why we empower every tasteful and trusted fashion lover.

PUMA is one of the world's leading Sports Brands, designing, developing, selling and marketing footwear, apparel and accessories. For more than 70 years, PUMA has relentlessly pushed sport and culture forward by creating fast products for the world's fastest athletes. PUMA offers performance and sport-inspired lifestyle products in categories such as Football, Running and Training, Basketball, Golf, and Motorsports. It collaborates with renowned designers and brands to bring sport influences into street culture and fashion. The PUMA Group owns the brands PUMA, Cobra Golf and stichd. The company distributes its products in more than 120 countries, employs more than 16,000 people worldwide, and is headquartered in Herzogenaurach/Germany. Across the business, PUMA is working to manage its impacts and improve its performance for people and the planet in ten key sustainability areas. By doing so, PUMA aims to produce better products and contribute to a better environment and society. As progress towards these goals is achieved, PUMA will keep raising the bar to new and higher levels.

ZALANDO

Associate Partner

Zalando is Europe's leading online platform for fashion and lifestyle. Founded in Berlin in 2008, the company brings head-to-toe fashion to more than 29 million active customers in 17 markets, offering clothing, footwear, accessories and beauty. Its assortment of international brands ranges from world famous names to local labels. Zalando's platform is a one-stop fashion destination for inspiration, innovation and interaction. As Europe's most fashionable tech company, it works hard to find digital solutions for every aspect of the fashion journey, for customers, its partners and every valuable player in the Zalando universe. The company's goal is to become the Starting Point for Fashion.

TAL APPAREL

Associate Partner

TAL APPAREL is a pioneering garment manufacturer that has created supply chain solutions tailored to the exact needs of retailers and brands for more than 70 years. A world leader in manufacturing excellence, the company has 10 factories in five countries and over 25,000 employees. Sustainability has always been a key pillar at TAL. They have been implementing GHG Emission Intensity and Water Footprint Reduction programmes since 2010.

Founded in 2000, Danish fashion label GANNI has developed exponentially over recent years with its Scandi 2.0 sense of style full of personality, contrasts and experimentation. Based in Copenhagen and owned and run since 2009 by husband-and-wife team Creative Director Ditte Reffstrup and Founder Nicolaj Reffstrup, GANNI is represented in more than 400 of the world's finest retailers as well as through 21 concept stores across Denmark, Norway and Sweden.

ERDOS GROUP

Associate Partner

Established in 1979, ERDOS GROUP is one of China's top 100 private enterprises. ERDOS Cashmere Group is a subsidiary of ERDOS Group and is the leading player in China's cashmere industry. The Group boasts the world's largest scale production, most complete industrial systems, most mature marketing network and most advanced technology and equipment in the cashmere apparel industry. For nearly 40 years, ERDOS Cashmere Group has consistently set new standards in the development of China's cashmere industry. It was the first enterprise to carry out intensive cashmere processing and was crowned as "The Leader of the Cashmere World," in addition to the recognisable government standard and was the first "Chinese Famous Trademark" in the garment industry.

Allbirds

Associate Partner

ALLBIRDS believes in making better things in a better way. The company is on a mission to prove that comfort, design and sustainability are not mutually exclusive by making premium footwear from renewable materials, designed for everyday life. It launched its first product in March 2016, the Wool Runner, which was dubbed "the world's most comfortable shoe" by TIME Magazine. Allbirds has gone on to sell over a million pairs of shoes in its first two years of business and continues to introduce new proprietary sustainable materials, including Tree made from eucalyptus fibre and SweetFoam™ derived from renewable sugarcane.

ASOS is an online retailer for fashion-loving 20-somethings around the world, with a purpose to give its customers the confidence to be whoever they want to be. Through its market-leading app and mobile/desktop web experience, all of which is available in ten languages and over 200 markets, ASOS customers can shop a curated edit of 85,000 products, sourced from 850 of the best global and local third-party brands and its mix of fashion-led in-house labels. ASOS serves its 23 million active customers from fulfilment centres in the UK, US and Europe, delivering ASOS packages to almost every country in the world.

PVH Corp.

Associate Partner

PVH CORP. is one of the most admired fashion and lifestyle companies in the world, powering brands that drive FASHION FORWARD — for good. The company manages a diversified brand portfolio, including the CALVIN KLEIN, TOMMY HILFIGER, Van Heusen, IZOD, ARROW, Warner's, Olga and Geoffrey Beene brands, as well as the digital-centric True&Co. intimates brand, and markets a variety of goods under these and other nationally and internationally known owned and licensed brands. PVH has over 40,000 associates operating in more than 40 countries and generated $9.9 billion in revenues in 2019.

Affiliate Partners

Our Affiliate Partners are a part of the GFA community which strive to have sustainability as a key pillar of their strategy. They are companies that are small to medium size, representing varying segments and geographies.

EVERLANE

Affiliate Partner

EVERLANE launched in 2011 with the mission to make the right choice to be as easy as putting on a T-shirt. They partner with the best ethical factories around the world, source only the finest materials, and work diligently to build a more sustainable supply chain. To hold themselves accountable, they share these stories with customers and reveal the true cost behind every product they make. Building on the brand's transparent values, Everlane has put sustainability front and centre. The company committed to eliminate all virgin plastics from its supply chain by 2021 and to transition its supply chain to certified organic cotton by 2023. Everlane currently works with over 30 factories and has seven retail locations.

CRYSTAL INTERNATIONAL

Affiliate Partner

Founded in Hong Kong in 1970, CRYSTAL INTERNATIONAL GROUP LIMITED is a global leader in the apparel manufacturing industry. The Group has a diversified product portfolio comprised of five categories, namely Lifestyle wear, Denim, Intimate, Sweater and Sportswear and outdoor apparel. Crystal International currently operates a multi-country manufacturing platform, with around 20 production facilities in five countries, which include Vietnam, China, Cambodia, Bangladesh and Sri Lanka. The Group presents differentiated value-added "Co-creation" business model and also strongly focuses on sustainability development. It was ranked 17th out of 50 in Fortune Magazine's "Change the World" list in 2016, which recognises companies with significant social and environmental impact through business. In 2020, the Group was selected by World Benchmarking Alliance as a keystone company of the SDG2000: the most influential 2,000 companies, in recognition of the capability to move towards a more sustainable future and achievement of the UN Sustainable Development Goals.

Academic Partners

Our Academic Partners support GFA Academy. Through educational platforms and community knowledge sharing, GFA Academy supports the learning and implementation of sustainability knowledge, tools, and solutions for all industry stakeholders.

Fashion Values

Academic Partner

Fashion Values is a sustainability education programme led by Centre for Sustainable Fashion in collaboration with Kering, IBM, Vogue Business Eyes on Talents and GFA. The Fashion Values partners bring together a network of sustainability experts, fashion professionals, educators, academics and students from across the fashion system. The Fashion Values vision is to make sustainability education for fashion open, accessible, and transformative.

London College of Fashion's (LCF) Centre for Sustainable Fashion (CSF)

Academic Partner

Centre for Sustainable Fashion (CSF) is a University of the Arts London research, education and knowledge exchange centre. Based at London College of Fashion, the centre provokes, challenges, and questions the status quo in fashion to contribute to a system that recognises its ecological context and honours equity. CSF shapes and contributes to Fashion Design for Sustainability as a field of study, industry practices and educational models. By exploring and cross-referencing fashion's relational ecological, social, economic, and cultural agendas, the centre engages in transformational design practices. CSF takes a pluralistic, systemic approach, collaborating across its network of universities, businesses and other organisations from all around the world. All of CSF's work is underpinned by their Declaration.

Guests are at the heart of everything TARGET does. Target believes in making smart decisions and taking action across its business to care for the planet, while serving guests' needs. Target is committed to using resources responsibly, and designing its operations, products and services to be sustainable.

Impact Partners

Our Impact Partners contribute subject-matter expertise to support and qualify the content development of Global Fashion Agenda's annual publication; the GFA Monitor. The Impact Partners identify as leading organisations and are acknowledged principal industry experts in their respective fields.

Textile Exchange

Impact Partner

Social & Labor Convergence

Impact Partner

Fair Labor Association

Impact Partner

Ellen MacArthur Foundation

Impact Partner

Apparel Impact Institute

Impact Partner

Fashion For Good

Impact Partner

Strategic Knowledge Partner

Our Strategic Knowledge Partner is the management consulting firm McKinsey & Company, who shares our commitment to shape the sustainability agenda in fashion through the joint creation of thought leadership and insights. As a global leader in sustainability topics, and with the fashion industry as a strategic priority, McKinsey supports our thought leadership on a strategic level, leveraging their extensive network and in-house capabilities.

McKinsey & Company

Strategic Knowledge Partner

Global Fashion Agenda's Strategic Knowledge Partner is the management consulting firm McKinsey & Company, who shares our commitment to shape the sustainability agenda in fashion through the joint creation of thought leadership and insights. As a global leader in sustainability topics, and with the fashion industry as a strategic priority, McKinsey supports our thought leadership on a strategic level, leveraging their extensive network and in-house capabilities.

Alliances

We have forged alliances with a number of selected stakeholders to accelerate the fashion industry's climate action.

Sustainable Apparel Coalition

Alliance

The SAC is a global multi-stakeholder nonprofit alliance for the consumer goods industry. GFA and SAC have formed a constructive alliance to combine leadership experiences and knowledge to accelerate industry transformation. We collaborate around key impact initiatives and forums.

Watch & Jewellery Initiatives

Alliance

Global Fashion Agenda has forged a new alliance with the Watch & Jewellery Initiative 2030 (WJI 2030) to unite iconic fashion, watch and jewellery brands in a bid to accelerate positive impact. Through the partnership, esteemed industry leaders will collaborate to tackle shared social and environmental challenges. Cartier, delegated by Richemont, and Kering launched the Watch & Jewellery Initiative 2030 driven by a common conviction that the UN Sustainable Development Goals (SDGs) and aspirations for a sustainable industry can only be achieved through collaborative initiatives. The global initiative is open to all watch and jewellery players with a national or international footprint. It is committed to a common core of key sustainability goals in three areas: building climate resilience, preserving resources, and fostering inclusiveness. The association is based in Maison de La Paix in Geneva.

United Nations Climate Change Secretariat (UNFCCC) With the urgent need for industry transformation, the alliance between GFA and UNFCCC accelerates the impact of the UN Fashion Industry Charter for Climate Action which aims to drive the fashion industry to net-zero emissions no later than 2050 in line with keeping global warming below 1.5 degrees. The collaboration is activated around the organisations' prestigious forums including GFA's Global Fashion Summit and UNFCCC's annual Conference of Parties (COP). Through these forums, the organisations collaborate to unite fashion leaders and core stakeholders to facilitate knowledge sharing, impactful partnerships, and the implementation of bold actions needed to meet the Fashion Charter targets.

Grantors

We are highly grateful to our Grantors for supporting the work that we do at GFA.

Media Partners

Spreading our vision and the work that we do at GFA is crucial in order to achieve our ultimate vision of a net positive fashion Industry. Therefore we partner with selected Media houses to support on spreading awareness, knowledge sharing and thought leadership.

GFA and BBC started a partnership in 2022. We are delighted to be working with BBC StoryWorks to amplify educational content on sustainability in fashion.

The alliance between GFA and FT Live revolves around the organisations' key forums including GFA's Global Fashion Summit and FT's Business of Luxury Summit, through which we will work collaboratively to accelerate positive change in the fashion industry.⁠ Global Fashion Agenda is working to drive impact by mobilising and guiding sustainable business transformation. We are therefore so delighted to be partnering with Financial Times which is a globally renowned leader for trusted business news and analysis and has placed sustainability at the forefront of its content. Through our meaningful partnership, we can elevate awareness about the urgent environmental and social issues in the fashion industry and inspire leaders across the world to drive impact." – Federica Marchionni, CEO, Global Fashion Agenda.

Data Partner

Worldly is GFA's inaugural Data Partner.  This partnership confirms our organisations' commitment to consistent, comparable, and credible use of data across the industry. In this collaboration, the partners help the industry to understand critical areas for improvement across the Fashion CEO Agenda framework and strive to close existing data gaps together with the industry's best-in-class tools and frameworks, to accelerate towards a net positive fashion industry.

Worldly equips future-forward brands and manufacturers with powerful supply chain intelligence as the basis for taking action. Actions that ultimately transform how products are made, marketed, bought, used, and recycled. With Worldly brands and retailers can understand their products, sourcing and footprint with comprehensive manufacturing data more frequently, with greater resolution and accuracy.