The Fashion Industry Target Consultation will aim to identify and converge existing industry-aligned targets, according to the five priorities of the Fashion CEO Agenda: Respectful & Secure Work Environments, Better Wage Systems, Resource Stewardship, Smart Material Choices and Circular Systems. Moreover, the Consultation will seek to formulate new targets where they are not currently covered – such as criteria for purchasing practices and circular design – to establish a route towards a net-positive (1) fashion industry.
The new Consultation will be a multi-stakeholder project led by GFA – a non-profit organisation that fosters industry collaboration on sustainability in fashion to accelerate impact – and UNEP, who will be drawing on the expertise of the broader network of the United Nations throughout the process. Together, GFA and UNEP are inviting stakeholders and partners from across the global value chain including brands, retailers, NGOs, manufacturers, data providers, innovators, intergovernmental organisations, policy makers, and more to share their insights on the performance indicators and milestones that the industry must strive to meet, and importantly to gauge what tools and support are needed by these actors to take action. 
The fashion and textiles industry is responsible for some 300 million jobs globally, which support vital livelihoods,  but also creates significant social and labour risks for workers. Meanwhile, if the fashion industry continues its current trajectory, it will fall short of the decarbonisation targets required to conform with the UNFCCC's 1.5-degree pathway by 50% (2). The fashion value chain also has a significant impact on ecosystems through land use, resource use and through pollution. Progress demands a holistic route in order to respect planetary sustainability, provide dignified work and protect the human rights of these many millions of people and their communities.
UNEP's upcoming report, Sustainability and Circularity in the Textile Value Chain: A global roadmap and Global Fashion Agenda's recent GFA Monitor report set out the priorities and actions all key stakeholders can take towards transformation. However, this transformation will require stakeholders to work together towards common targets that will reduce fashion's impact and create positive social and environmental contributions.
Through the consultation, the organisations intend to provide clarity and drive accountability by concluding a range of consistent, measurable, monitored, and complete goals, so that the industry is able to understand the current state of progress, the areas that must be focused on to accelerate impact and the timeframe to do so.
Federica Marchionni
●
Chief Executive Officer
"We know that addressing the complex matrix of environmental and social issues prevalent in the fashion industry can feel insurmountable – especially when acting in isolation – which is why we at Global Fashion Agenda recognise the unparalleled value of collaboration. We are delighted to be working with UNEP and to capture the broader industry's direction for targets that will accelerate the fashion industry forward, united in its purpose for a net positive industry."
Sheila Aggarwal-Khan
●
Director, Economy and Industry Division, UNEP
"Addressing climate change, pollution, and biodiversity loss requires a collaborative and holistic approach. Together with partners within the United Nations and beyond, UNEP works to ensure a just and effective transition to circularity in which all stakeholders participate. UNEP welcomes this unique opportunity with GFA to consult with the textile sector, including on circularity, chemicals in products, gender, worker protections, and business models to ensure all voices are understood and inform ambitions."
The consultation will consist of an online survey for target feedback which will be available in multiple languages and regional workshops hosted by UNEP in Latin America and the Caribbean, West Asia, Asia Pacific, and Africa. 
Find out more about the Consultation and how to participate here.
Feedback is welcome from now until February 2023, after which feedback analysis will be shared and the aligned targets will be unveiled in the 2023 publication of GFA's Fashion CEO Agenda at Global Fashion Summit: Copenhagen Edition in June 2023. An assessment of the industry's progress towards these targets will be disclosed in future editions of The GFA Monitor from 2023 onwards.
Notes to Editors:
(1) A net-positive industry is one that gives back more to the natural world, people and societies and the economy than it takes out. The targets to be defined by the consultation will not be directly accountable for a net-positive industry, but help to define the pathway towards it by encouraging ambitious sustainability strategies that reduce harm, but also deliver positive outcomes for the environment and societies 
(2) Global Fashion Agenda, McKinsey & Company. (2020) Fashion on Climate.
Contact: 
+4528940827
www.globalfashionagenda.com
Supporting image can be downloaded here.
About Global Fashion Agenda
Global Fashion Agenda is a non-profit organisation that fosters industry collaboration on sustainability in fashion to accelerate impact. With the vision of a net positive fashion industry, it drives action by mobilising, inspiring, influencing and educating all stakeholders.
The organisation has been leading the movement since 2009 and is behind the renowned international forum on sustainability in fashion, Global Fashion Summit, the Innovation Forum, thought leadership publications including The GFA Monitor,  Fashion CEO Agenda and Fashion on Climate and impact programmes including the Circular Fashion Partnership and the Global Circular Fashion Forum.
In partnership with its Strategic Partners, ASOS, BESTSELLER, Global Fashion Group, H&M Group, Kering, Nike, PVH Corp., Ralph Lauren Corporation and Target, and our Strategic Knowledge Partner, McKinsey & Company, Global Fashion Agenda spearheads the fashion industry's journey towards a more sustainable future. Through its work, Global Fashion Agenda reaches thousands of stakeholders including brands, innovators, NGOs, policy makers, manufacturers, investors and more.
About the United Nations Environment Programme
The United Nations Environment Programme is the leading global voice on the environment. It provides leadership and encourages partnership in caring for the environment by inspiring, informing and enabling nations and peoples to improve their quality of life without compromising that of future generations. Since its inception in 1972, UNEP has employed several cross-sectoral subprogrammes, specifically its work within textiles takes form through the provision of strategic leadership and encouraging sector-wide collaboration to accelerate a just transition towards a sustainable and circular textile value chain, while supporting sound management of chemicals. 
UNEP's report Sustainability and Circularity in the Textile Value Chain: Global Stocktaking identified the environmental and socio-economic hotspots, and mapped initiatives working to address those. Its upcoming roadmap report defines a common agenda of transformation for all value chain actors. UNEP's textile work builds on multi-stakeholder consultation and collaboration across all regions for a holistic and inclusive approach. This includes involvement in the UN Alliance for Sustainable Fashion, an initiative of United Nations agencies and allied organisations designed to contribute holistically to the Sustainable Development Goals through coordinated action in the fashion sector.
For more information and to arrange interviews, please contact:
UNEP News Desk (Nairobi)
Tel: +254 717 080 753
www.unep.org
Global Fashion Agenda (GFA) is announcing a new branded film series on social and environmental sustainability in the fashion industry, The series will be produced for them by BBC StoryWorks Commercial Productions and released to a wide audience on a dedicated BBC.com microsite in 2023. Members of the GFA network are invited to share their stories for potential inclusion in this commercial series.
Fashion is said to both reflect and lead culture; it is by definition responsible for "setting trends". As we look ahead at the seismic challenges that face our planet and communities over the coming decades, there is an opportunity for the fashion industry to prove itself capable of rising to the moment: to drive forward sustainability and responsibility.
The challenge is vast, but through leadership, innovation, and collaboration the sector is making progress: better conditions for people, sourcing materials responsibly, emphasising resource stewardship, and leading the way to a circular economy. The new series will bring to screen case studies that showcase this progress.
Through stunning human-centric storytelling, it will educate consumers as to the scale of the issue and the possibility of solutions, while galvanising leaders in the sector to follow the blueprint of those that have been successful, with the aim of sparking meaningful conversation.
The series will be hosted on a dedicated BBC.com microsite, providing an immersive experience for browsers and an opportunity for in-depth coverage spanning films, articles, infographics and animations. A multi-platform campaign will reach relevant audience groups from among BBC.com's 139 million monthly browsers, as well as the global fashion sector through the GFA and its network.
The series was announced during Global Fashion Summit, a leading international forum for sustainability in fashion, that convenes leaders across the value chain to collaborate on the most critical environmental and social issues.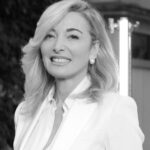 Federica Marchionni
●
Chief Executive Officer
"We are delighted to be working with BBC StoryWorks to amplify educational content on sustainability in fashion. Indeed, to transform the industry it is crucial that we keep inspiring and educating people about the ways we can produce, distribute, and consume fashion sustainably. For a world beyond the next season, we invite everyone to learn and be part of a needed and possible change"
If you have a story to share, please express your interest in participating in the series by emailing Lara McNeil, Series Developer at BBC StoryWorks with a response to the following prompt by 21 December:
Choosing one of the four topics outlined above (social impact, materials, stewardship, circularity), please detail a specific project or initiative through which your organisation is contributing to the solution of one of these major challenges.
Stories will be reviewed, and a selection will be invited to discuss engaging BBC StoryWorks' creative teams to produce a branded piece for the series. Their researchers, producers and writers will work with selected organisations to capture the work taking place across our industry in a compelling and visually engaging way, and those organisations can also amplify the series on their own channels as facilitated by the BBC StoryWorks and GFA teams.
Dear GFA Community,
As we usher in 2023, I want to take a moment to extend my warmest wishes for the new year and to thank you for your unwavering support throughout 2022. It is thanks to your dedication and commitment to our cause that we have continued to build a thriving and global GFA community.
2022 marked a pivotal year for GFA; we hosted our Summit outside of Copenhagen for the first time in its 13-year history, announced landmark alliances and partnerships, launched new impact programmes and published collaborative reports.
Amidst GFA's breakthrough announcements and developments, 2022 was undeniably also shadowed by extreme weather events, uncertain economic landscapes, geopolitical strife, and both environmental and social challenges. These adversities exemplified the need for GFA to keep working towards its mission of a net-positive fashion industry, that gives back more to the natural world, people and societies and the economy than it takes out. Every industry is navigating the repercussions of such turbulent times, but it is imperative that we remain strong-minded and united in our ambitions for a better future.
As we look ahead to 2023, I want to emphasise that the changes you now make, individually or collectively, can have impact well beyond the fashion industry. Let's lead by example and inspire other industries by demonstrating the many opportunities that can be created when we steer our impact strategies with a net-positive mindset and collaborate with actors across the value cycle.
I wish you all a wonderful festive period full of gratitude and hope. We very much look forward to continuing to inspire, educate and mobilise the industry in 2023 to generate even greater impact.
Best wishes,
Federica Marchionni, CEO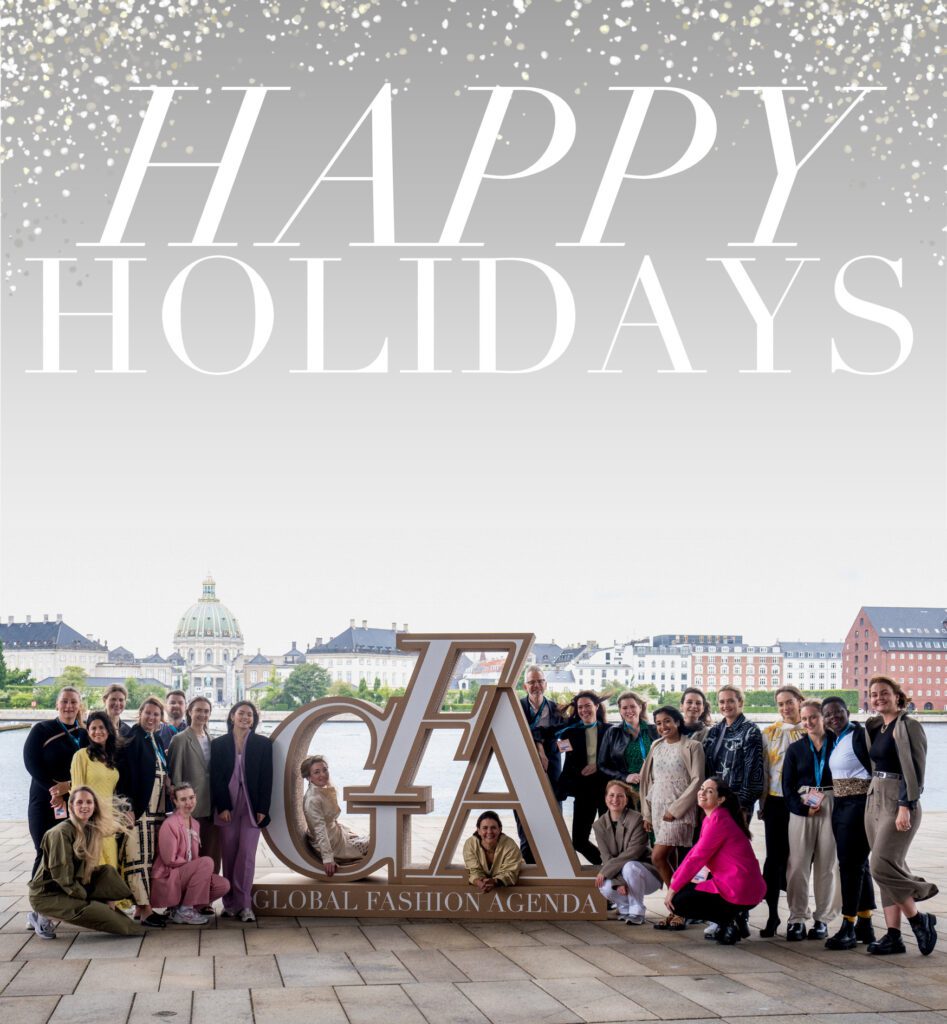 Read our latest article exploring what happened in the fashion industry in 2022 here.