"This is a decisive decade in the history of humankind" – Christiana Figueres, Former Executive Secretary, UNFCCC
Friday 4th November: Hosted outside of Copenhagen for the first time in its 13-year history, on 3 November, Global Fashion Summit assembled over 250 stakeholders representing manufacturers, garment workers, retailers, brands, suppliers, NGOs, policy, and innovators in Singapore and online to spur industry action. The Summit was presented by Global Fashion Agenda (GFA), the non-profit organisation that is accelerating the transition to a net positive fashion industry.
The latest edition of the Summit was centred around the theme 'Alliances for a New Era', building on dialogues from the June edition in Copenhagen and gathering leaders from across the entire value chain to elevate diverse voices and foster alliances within the fashion industry and beyond, to drive sustainable impact.
The Summit's first international edition facilitated even more conversations with manufacturer and supply chain voices to discuss crucial challenges and opportunities around working collaboratively with brands on equal terms. The programme featured bold panels, case studies, masterclasses and leadership roundtables reflecting on topics including 'Data Scarcity: A Crisis of Measurement?', 'Disruption for Better Wage Systems', 'Community and Circularity', 'Connecting the EU Textiles Strategy with the Value Chain' and 'Our Energy Transformation Moment'.
Attendees heard from over 50 speakers including H.E. Sandra Jensen Landi, Ambassador of Denmark to Singapore & Ambassador-Designate of Denmark to Brunei; H.E. Iwona Piórko, Ambassador of the European Union to Singapore; Anne-Laure Descours, Chief Sourcing Officer, PUMA; Baptiste Le Gal, Chief Revenue Officer APAC, Vestiaire Collective; Christian James Smith, Head of Sustainability Stakeholder Engagement, Zalando; Ninh Trinh, Director of Responsible Sourcing & Sustainability, Target; Roger Lee, CEO, TAL Apparel; Wilson Teo, President, Singapore Fashion Council; Edwin Keh, Chief Executive Officer, The Hong Kong Research Institute of Textiles and Apparel;Ashila Dandeniya, Founder, StandUp Lanka; and many more. View all speakers.
Federica Marchionni, CEO, Global Fashion Agenda, says: "The first international edition of Global Fashion Summit marked a special moment for us. What ensued was a day of critical dialogues representative of even broader stakeholder voices that are pivotal in steering the fashion industry. From our new alliance with the BBC Storyworks Commercial Productions and discussions around robust data to vital conversations about better wages and kickstarting the Global Circular Fashion Forum in Vietnam and Cambodia. As the focus shifts from words to deeds, we look forward to witnessing the ambitious and much-needed actions we inspire from the Summit, that not only reduce harm, but also deliver positive impact for the environment and societies."
The event took place following the Sustainable Apparel Coalition's two-day Annual Meeting in Singapore, which was powered by Global Fashion Agenda. Read more about the partnership.
Key takeaways and highlights from the event include:
Global Fashion Agenda announced a new alliance with BBC Storyworks Commercial Productions to launch a film series on BBC.com, which is currently in the early stages of development. The new series will present human-centric stories focusing on both social and environmental sustainability in the fashion industry. It will be released to a wide audience in 2023. People are invited to share their stories via the Global Fashion Agenda website for potential inclusion in the series. Read more.
Federica Marchionni outlined the crucial need for accurate and robust data to substantiate sustainability claims and credentials but acknowledged that the focus on finding 'perfect' data cannot be allowed to stifle progress. Global Fashion Agenda will build upon Summit discussions to reflect on how the industry can accurately measure and communicate sustainability performance and illuminate the data credibility challenges.
The session 'Establishing circular fashion systems in Cambodia & Vietnam' outlined the first steps taken by the Global Circular Fashion Forum to establish circular fashion systems in Vietnam and Cambodia with regional stakeholders, government, brand and manufacturer representation.
Through conversations such as 'Disruption for Better Wage Systems' and 'Empowering the Worker Majority', there was a resounding message for people to consider the real people in the value chain. Ensuring dignified livelihoods for these workers should have the same sense of urgency as emissions reductions.
Quotes from other leading speakers:
Anne-Laure Descours, Chief Sourcing Officer, PUMA on sourcing alliances for recycled fibres: "Doing the thing right is not even a choice, it's an obligation, and if you don't do it right… you are out of business in the next 10 years."
Hilmond Hui, Vice President, Bombyx on better wage systems: "We need to reframe our thinking or what we think when we hear the word worker. They are not just a unit of productivity – they are people. People with names and people with lives."
Edwin Keh, CEO, The Hong Kong Research Institute of Textiles and Apparel on sourcing alliances for recycled fibres: "We can't recycle ourselves to carbon neutrality. It buys us more time, it gives us more room to bring in other solutions."
Maria João Vasquez, Chief Technical Advisor, Better Work Indonesia on empowering the worker majority: "There is no better monitoring of working conditions in a factory than the worker."
Sean Cady, Vice President, Global Sustainability, Responsibility and Trade, VF Corporation on data scarcity: "We are the first generation to experience climate change directly and the last generation to do anything about it."
Nazma Akter, Founder & Executive Director, Awaj Foundation on better wage systems: "We want decent jobs, fair wages, fair prices and we want profit. The power should be equally distributed between suppliers, brands and workers."
La Rhea Pepper, CEO and Co-Founder, Textile Exchange on alliances: "Being a force for change and empowering the industry to come together more effectively and work together more efficiently is so critical at this point, because it is truly these alliance approaches that are going to allow us to drive change."
Find more information about the Summit at globalfashionsummit.com. All Summit content will be available to access in an on-demand video library in the coming days. 
Global Fashion Agenda (GFA) is announcing a new branded film series on social and environmental sustainability in the fashion industry, The series will be produced for them by BBC StoryWorks Commercial Productions and released to a wide audience on a dedicated BBC.com microsite in 2023. Members of the GFA network are invited to share their stories for potential inclusion in this commercial series.
Fashion is said to both reflect and lead culture; it is by definition responsible for "setting trends". As we look ahead at the seismic challenges that face our planet and communities over the coming decades, there is an opportunity for the fashion industry to prove itself capable of rising to the moment: to drive forward sustainability and responsibility.
The challenge is vast, but through leadership, innovation, and collaboration the sector is making progress: better conditions for people, sourcing materials responsibly, emphasising resource stewardship, and leading the way to a circular economy. The new series will bring to screen case studies that showcase this progress.
Through stunning human-centric storytelling, it will educate consumers as to the scale of the issue and the possibility of solutions, while galvanising leaders in the sector to follow the blueprint of those that have been successful, with the aim of sparking meaningful conversation.
The series will be hosted on a dedicated BBC.com microsite, providing an immersive experience for browsers and an opportunity for in-depth coverage spanning films, articles, infographics and animations. A multi-platform campaign will reach relevant audience groups from among BBC.com's 139 million monthly browsers, as well as the global fashion sector through the GFA and its network.
The series was announced during Global Fashion Summit, a leading international forum for sustainability in fashion, that convenes leaders across the value chain to collaborate on the most critical environmental and social issues.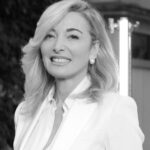 Federica Marchionni
●
Chief Executive Officer
"We are delighted to be working with BBC StoryWorks to amplify educational content on sustainability in fashion. Indeed, to transform the industry it is crucial that we keep inspiring and educating people about the ways we can produce, distribute, and consume fashion sustainably. For a world beyond the next season, we invite everyone to learn and be part of a needed and possible change"
If you have a story to share, please express your interest in participating in the series by emailing Lara McNeil, Series Developer at BBC StoryWorks with a response to the following prompt by 21 December:
Choosing one of the four topics outlined above (social impact, materials, stewardship, circularity), please detail a specific project or initiative through which your organisation is contributing to the solution of one of these major challenges.
Stories will be reviewed, and a selection will be invited to discuss engaging BBC StoryWorks' creative teams to produce a branded piece for the series. Their researchers, producers and writers will work with selected organisations to capture the work taking place across our industry in a compelling and visually engaging way, and those organisations can also amplify the series on their own channels as facilitated by the BBC StoryWorks and GFA teams.
7 September 2022: Global Fashion Agenda (GFA) – the non-profit organisation that fosters collaboration to accelerate impact in the fashion industry – has launched a new international edition of Global Fashion Summit. Traditionally held in Copenhagen, the new edition in Singapore will further focus on the perspectives of manufacturers and supply chain partners to deeper understand how the industry can collaborate to reduce social and environmental impact in the entire value chain. Global Fashion Summit:  Singapore Edition will take place on 3 November 2022 at Hilton Singapore Orchard.  Tickets are on sale from today.
The theme of Global Fashion Summit: Singapore Edition continues GFA's focus on 'Alliances For a New Era'. Under this theme, the Summit will call on the industry to accelerate change – encouraging more alliances between manufacturers, suppliers, investors, brands, NGOs, policymakers and more. It will also examine cross-industry alliances, in a bid to accelerate the transition to a net positive reality.
By bringing the forum to Asia, the new edition will include even more manufacturer and supply chain partner voices in the programme to discuss sustainability challenges, differences, and opportunities to collaborate with brand executives on equal terms. Plenary sessions will consider topics such as: (i) Renewable energy transformation – what does concrete transformation look like from tier 1-3 perspectives and what measures are needed to implement it? (ii) Better wage systems – how can the industry establish fair compensation, underpinned by fair purchasing practices that will help end poverty for millions of garment workers? (iii) Performance measurement – how can the industry accurately measure sustainability performance and tackle data credibility challenges?
Half of the programme will be dedicated to educational and action-oriented business case studies with options for direct interaction and live reactions. These will include tangible learnings and concrete recommendations to mobilise guests to take immediate action following the event.
The event will foster further collaboration across stakeholder groups through productive roundtable sessions that create an exchange of views among key decision makers in both the public and private sectors. These meetings will be designed and set up to drive commitments and new alliances for concrete action.
Federica Marchionni, CEO, Global Fashion Agenda, says: "With less than eight years to achieve the Sustainable Development Goals, we need to create alliances throughout the value chain to accelerate systemic change. It's clear that manufacturers and supply chain partners play a crucial role and must be included when tackling sustainability. I look forward to the international edition of the Summit in Singapore, through which we can build new and stronger connections in the fashion ecosystem."
Tickets are on sale from today, including Regular ($500-745+VAT), Premium (€855-945 +VAT) and NGO (€395 +VAT). Early bird combo tickets are also available for those attending both the SAC Annual Member Meeting (1-2 November) and Global Fashion Summit: Singapore Edition.
For more information visit www.globalfashionsummit.com/tickets/
If you would like to join the event on behalf of a publication or media outlet, we invite you to apply for digital access here.
Sign up to the Global Fashion Summit newsletter or follow Global Fashion Agenda on social media for updates.
Global Fashion Agenda (GFA) is delighted to welcome Harsh Saini to its Board of Directors. An industry veteran in sustainability, supply chains, thought leadership and innovation, Harsh has spent over two decades at global brands in various roles from corporate communications, marketing, trade relations, to supply chain compliance and sustainability. As a member of the GFA board, Harsh will help GFA accelerate the transition to a net positive fashion industry for people and the planet.
Harsh will contribute expertise based on her wealth of industry experience – having spent much of her career at prestigious brands including Nike, The Body Shop and global supply chain manager the Fung Group. She brings knowledge of delivering industry-changing improvements in diverse commercial settings around the world, with integrated brand reputation strategies to identify value-adding opportunities for brand building and reputation, increased environmental sustainability, human rights, and equality with digital innovation.
"We are thrilled that Harsh will be joining the GFA family," said Niels Eskildsen, GFA Chairman & CEO, Designers Remix. "Her in-depth knowledge of the fashion value chain will be extremely valuable to furthering GFA's mission and vision, and perfectly complements the range of expertise among the Board."
"I'm so pleased to be joining the GFA team, which I've been working with closely for over 10 years. The opportunities and guidance that GFA offers the industry are very unique," said Harsh. "Going forward, I'm looking forward to being part of the team moving into the next phase of GFA, building new, permanent, and strategic alliances that create a bedrock for the industry and can make it truly sustainable."
The board of directors is Global Fashion Agenda's executive body and signs off on the organisation's budget and strategy. The board comprises seven appointed executive members with experience in the fashion industry and other areas relevant to Global Fashion Agenda's purpose. In addition to ensuring corporate governance and compliance, the board's role is to oversee that Global Fashion Agenda operates in a healthy manner in terms of the organisation, team, funding and overall objectives and activities.
View all board members here.
After two years of delivering our annual Summit to people digitally, this month over 900 leaders of brands, retailers, NGOs, policy, manufacturing, and innovators descended on Copenhagen in a bid to drive urgent action at the latest edition of the Global Fashion Summit. What ensued was two days of notable announcements, newly forged alliances and many learnings for both the next Summit and the industry more broadly.
Whilst progress has been made, it is acutely apparent that fashion in its current state is not fit for purpose. What could be a vehicle for creative expression is instead operating at the expense of our communities and our shared planet.
Faced with the stark repercussions of the industry, the Summit exists to embolden our network of committed stakeholders to recognise the urgency of the situation and to give them a platform for accountability, alliances, collaboration and education.  Action is no longer optional and to be loosely enacted by a small selection of principled brands; it is mandatory and elicits urgent and pervasive attention.
As Kathleen Talbot, Chief Sustainability Officer and VP Operations, Reformation shared on the main stage: "We don't get to keep debating this. We're talking about lives and livelihoods, right now. We know that we're not there yet, lets hold hands and drive for accountability and real change."
Under the theme 'Alliances for a New Era', Summit attendees heard from over 100 speakers from companies such as Kering, Bottega Veneta, Ganni, Vestiaire Collective and UNFCCC, as well as activists, policymakers, designers and authors. The speakers present represented 22 different countries. Throughout the two days, over 300 facilitated meetings between brands and sustainable solution providers took place. Since its inception in 2009, the Summit has served as a bellwether for the broader industry and this edition was no exception.
If you missed out on the Summit, tickets for the on-demand video library are now on sale, so you can catch up on all of the content. Find out more here.
Below are just some of our reflections and considerations. Explore the key Summit outcomes and announcements here.
The position of the industry
Our recently launched GFA Monitor report provided apt context for the Summit – a comprehensive overview on the status of the industry, available solutions, clear actions to take, and proven best practices. The GFA Monitor was activated throughout the event during a pre-Summit masterclass as well as a main stage panel discussion.
The right approach to solutions
Solutions to transform the industry already exist, though the resounding message at the Summit was that these solutions must be carried out thoughtfully with the affected communities in mind. Two of the biggest industry buzzwords of the moment, 'circularity' and 'policy' were explored thoroughly across various panels, case studies and roundtables, providing serious points of reflection for the industry.
The significance of legislation to incentivise change within the fashion industry is unparalleled. Recent proposals such as the New York Fashion Act and EU Strategy for Sustainable and Circular Textiles were landmark events. Going forward policymakers must continue to keep the global nature of the textile value cycle in mind, this was echoed by Miran Ali, Vice President, BGMEA: "We need new standards across the world… it cannot just be within Brussels or New York, it has to be something truly global." Maxine Bédat, Director, New Standard Institute, added: "The fundamental key for successful legislations is going to be a shift away from passing the buck on to manufacturers and having a real, honest dialogue…"
In the same sense, it is crucial that we see a socially just transition to a circular economy and poignant discussions around waste colonialism took place on the Summit stage. Liz Ricketts, Co-Founder & Director, The Or Foundation shared: "We cannot preserve the hierarchies of [the] linear economy, we need to understand that a circular economy…  means that there is no top or bottom in that supply chain. So, we need to stop talking about redistributing materials and really be talking about how we redistribute wealth and power."
Activism
Concurrent with some of the higher-level discussions between brands, activists were present to hold organisations accountable. The poignant words of Climate Justice Activist, Xiye Bastida, reverberated around the venue, providing a stark reminder that we are not fighting for some abstract future for our planet, but rather the livelihoods of millions of people around the globe today: "We won't stop holding companies accountable. We want you to listen to the people on the street. Join us and listen to your children."
Let's usher in a new era where we honour the people and stand in solidarity with those most implicated by the industry both directly and indirectly. Without climate justice we cannot even begin to comprehend the resolution of environmental decay.
Value cycle representation
Global Fashion Agenda believes that the responsibility to drive change predominantly lies with the leaders of brands and retailers that have the power and volume to redefine business and increase sustainability performance at the vast scale that is urgently needed. Therefore, our Summit programme primarily aimed to convene these executives and empower them to act. We strive to include other perspectives in the conversation too and the people whom we convene at the Summit will be the cornerstone of a reimagined fashion industry, that puts back more into the planet than it extracts.
However, we recognise that the Summit's representation didn't comprehensively encompass the entire value cycle, and this is something we endeavour to improve upon with each Summit. We cannot expect to better our understanding of the issues at hand without representation from manufacturers, suppliers and garment workers which are indeed key stakeholders to include when considering the global value cycle of our industry.
Federica Marchionni, CEO,  Global Fashion Agenda candidly addressed this in the final panel of the summit entitled, 'The Value Chain Representation Challenge', alongside Nikhil Hirdaramani, ESG & Sustainability Consultant and Syed Naved Husain, Group Director & CEO, Beximco Limited.
Sourcing and labor editor at Sourcing Journal, Jasmin Malik Chua, reiterated during a panel discussion: "It's important to not take a really Western-centric approach and a Paternalistic approach, and actually speak to the workers, because they know what's really best for them."
Global Fashion Agenda is also engaging regularly with suppliers, manufacturers, and recyclers through our impact initiatives such as the Circular Fashion Partnership which is working to enhance the recycling infrastructure on-the-ground in Bangladesh to foster post-manufacturing circularity.
We plan to expand our Summit programme to other regions, namely Southeast Asia later this year, and continue to build new initiatives to drive impact across the value chain.
Diversity
The intersectional nature of climate experiences and the fashion industry means that it does not suffice to take a one-dimensional approach to Summit voices. It is crucial to acknowledge the vast scope of experiences on the basis of role, racial identity, sexual orientation, physical ability, nationality, religion, size, gender identity and socio-economic status. These are all inextricably linked. Climate language in the Global North is anchored in Western understandings, excluding valuable knowledge from communities most implicated by and most resilient to climate change.
Through our planned development to deliver Summit events in other regions we intend to further diversify the voices we convene. There is always work to be done in pursuit of true inclusion in the fashion industry and we must work to keep improving this.
Collective action
It is empowering to know that we can all participate in the climate movement, but to do so sustainability, itself, must be sustainable – meaning that it is accessible, enjoyable and enriching. And it can be. Willow Defebaugh, Co-Founder and Editor-in-Chief, Atmos, spoke to the topic of meaningful storytelling and shared: "Authenticity is always what's going to reach people, and that comes from understanding how your personal story can help shape your unique perspective that you bring to the storytelling."
In the same conversation, sustainable fashion blogger, photojournalist and labour rights activist, Aditi Mayer, provided insight into reframing of the term consumer: "We need to expand from framing civil society as purely consumers but citizens, how can you engage with one another in the community, focusing on organising." Reducing people to their consumption habits not only places the onus on the accumulation of more, but also limits us to thinking in extractive ways.
Going forward
It's time to flip the script on obsolete fashion rules and make way for the new prevailing fashion mentality. Here's to no more hollow promises based on the abstract future. The time for bold action is now. We're so proud of what we achieved at the Summit and look forward to witnessing the much-needed action we inspire going forward.  As Aron Cramer, President and CEO, BSR, so perfectly put it: "This is an industry that doesn't respond to trends, it shapes trends, so shape this one."
Read more about the announcements made by brands and organisations at the Summit here. Relive the Summit here. Global Fashion Agenda will publish further details on the impact of the Summit in the coming months.
Leaders assembled at the epicentre for sustainability in fashion to form alliances for a new era, set commitments, and launch new initiatives to accelerate impact.
Thursday 9 June: Hosted in the grand setting of the Royal Opera House, Copenhagen, on 7-8 June, the event convened over 900 leaders from brands, retailers, NGOs, policy, manufacturers, and innovators to drive urgent action. The Summit was presented by Global Fashion Agenda (GFA), the non-profit organisation that is accelerating the transition to a net positive fashion industry, under the patronage of HRH The Crown Princess of Denmark.
The Summit was centred around the theme 'Alliances for a New Era'. Under the theme, the event brought together leaders to foster pre-competitive collaboration within the fashion industry and examined atypical cross-industry alliances, in a bid to accelerate the transition to a net positive industry.
The programme content was the boldest yet and focused on challenging topics and honest discussions with more diverse voices. The programme covered topics from 'What even is a sustainable brand?' to 'subverting fashion's historical exclusion', to 'supercharged storytelling' to the 'metaverse impact and decentralised futures'.
Attendees heard from over 100 speakers including HRH The Crown Princess of Denmark; Marie-Claire Daveu, Chief Sustainability & institutional Affairs Officer, Kering ; Leo Rongone, CEO, Bottega Veneta; Thierry Andretta, CEO, Mulberry; Lily Cole, Author & Podcaster on climate solutions and Advisor for UNECE; Nicolaj Reffstrup, Founder, GANNI; Maximillian Bittner, CEO, Vestiaire Collective; Paul Polmon, Co-Author, Net Positive; Bobby Kolade, Fashion Designer; Halide Alagöz, Chief Product Officer, Ralph Lauren Corporation; Aditi Mayer, Sustainable fashion blogger and labor rights activist; Lindita Xhaferi Salihu, Fashion Charter Lead, UNFCCC; and many more. View all speakers.
Federica Marchionni, CEO, Global Fashion Agenda, says: "Fashion is about change, you can let it happen, or you can make it happen. The Summit sparked many very promising alliances and we saw key stakeholders announce a flood of encouraging sustainability improvements. There has been so much knowledge shared and attendees now need to take what they have learned and share it with others, and – most importantly – implement it, diligently."
Key Outcomes
Leading brands, retailers and organisations unveiled new alliances and initiatives:
Multiple companies chose to announce their latest sustainability measures at the landmark event.
Highlights include:
GFA published The GFA Monitor – a new report to guide fashion leaders towards a net positive fashion industry. It presents consolidated guidance according to five core sustainability priorities. Building alliances through shared industry knowledge, each priority includes expert insights from GFA's Data Partner, Higg, and its Impact Partners including: Fair Labor Association (FLA), the Social & Labor Convergence Program (SLCP), Ellen MacArthur Foundation, Apparel Impact Institute, and Textile Exchange.
GFA also announced the launch of the Global Circular Fashion Forum  (GCFF), a global initiative, which will be supported by GIZ, to spur local action in textile manufacturing countries to accelerate and scale recycling of post-industrial textile waste. The forum will convene stakeholders across various circularity programmes and regions, sharing knowledge and building upon best practices  in an effort to achieve a long-term, scalable, and just transition to a circular fashion industry. The GCFF builds on the Circular Fashion Partnership in Bangladesh (2020-2021) that demonstrated the potential to scale the recycling of post-industrial textile waste to create new textiles. It will aim to establish similar locally owned and led programmes in other regions, beginning in Vietnam and Cambodia.
Ralph Lauren Corporation announced its new Live On promise to enable its past and future products to live on responsibly by 2030. The new promise is part of Ralph Lauren's Timeless by Design approach to ensuring its philosophy of timelessness is embedded from inspiration through to products' every use and re-use across generations. As part of the unveiling, the Company also revealed that its iconic cashmere sweater will be the first-of-its-kind luxury Cradle to Cradle (C2C) Certified® product.
Apparel Impact Institute announced the lead funders for a new $250M Fashion Climate Fund: Lululemon, H&M Group, H&M Foundation, and The Schmidt Family Foundation. Uniting corporate entities and philanthropy, the fund will help decarbonize and modernize fashion industry supply chains.
Fashion Revolution highlighted its new "Good Clothes, Fair Pay" campaign which calls for legislation on living wages across the garment sector. This year-long campaign will be the single biggest EU campaign on living wages to date, requiring 1 million signatures from EU citizens.
Danish affordable luxury brand GANNI launched three fabric innovations as part of their 'Fabrics of the Future' initiative, an ambitious in-house programme dedicated to researching and developing innovative materials that will help inform the transition towards a more circular and lower impact fashion industry.
TrusTrace, a platform for supply chain transparency and product traceability within the fashion and retail industries, in collaboration with Fashion Revolution and Fashion for Good, unveiled The Traceability Playbook. The comprehensive, open-source guide offers an in-depth analysis of the evolving market dynamics and incoming legislation moving traceability from a nice-to-have to a must-have, and includes practical advice on how to leverage traceability to achieve their goals.
British luxury lifestyle brand, Mulberry, announced the introduction of Digital IDs to its leather goods in an initiative to revolutionise the way luxury brands and customers connect, and steward circularity in luxury fashion. As part of Mulberry's commitment to introduce Digital ID to all products by 2025, Mulberry begins digitisation of pre-loved and vintage bags from Mulberry's circular economy programme, the Mulberry Exchange – connecting each bag with a Digital ID powered by EON, retail's leading enterprise software Product Cloud platform.
In continuation of a round table at the Summit on Establishing Circular Fashion Systems in Indonesia, the Indonesian G20 Presidency, the EU, the Italian Ministry of Ecological Transition and the Indonesian Chamber of Commerce, will host a workshop to explore formats for international cooperation and exchange to help drive circular fashion throughout G20 value chains.
22 textile manufacturers that are members of Net Zero Pakistan – and represent 15% of Pakistan's exports –  convened to discuss how Pakistan's textile industry can collaborate with global fashion brands to identify and scale sustainable interventions across the supply chain. They are working together to drive the decarbonisation of the global fashion and apparel supply chain.
Innovation Forum
This year's Summit also presented an Innovation Forum, enabling small and large companies to meet with 24 sustainable solution providers – equipping them with the tools to turn words into meaningful actions. More than 300 facilitated business meetings between fashion companies and sustainable solution providers took place during the two days of the Summit.
Side Events
Going beyond the Royal Opera House, the Summit facilitated connections through stimulating side events. We kicked off the Summit activities with a GFA Monitor Masterclass, which explored the underlying insights behind our latest report. We also held a Welcome Reception at Villa Copenhagen, co-hosted by our Strategic Partner, Ralph Lauren. The Summit Dinner, co-hosted by Henkel, took place at Hotel Skt. Petri, and provided unique socialising and networking opportunities for attendees. Summit activities were rounded off with a Celebration Dinner at Langelinie Pavillonen, which was co-hosted by Kering.
Thank You
Global Fashion Agenda would like to extend its thanks to all partners, speakers, sponsors, volunteers, attendees, and contributors involved in the Summit. This Summit would not have been possible without you. Thank you for your passion and commitment that made this Summit truly unforgettable.
Thank you to our volunteers who provided invaluable support throughout the Summit, to H&M Group who provided 100% recycled cotton t-shirts for all of the volunteers and backstage crew and to the brands that provided pieces for the volunteers including By Malene Birger; True Gum; Humdakin; Retap; The Organic Company; Poppy Willow Studio; Dear Denier; moshi moshi mind; Underprotection; and Flying Tiger.
For more information about the Summit at globalfashionsummit.com. Learn more about Global Fashion Agenda at globalfashionagenda.org.
Access to all media materials and images is available via the Global Fashion Summit media bank.
The circular fashion economy is sparking into life, and it's wonderful to see CFS+ driving momentum with its
informative and ambitious programme of speakers this October. Industrial scale recycling, sustainable fabrics, digital product IDs, responsible dyeing – it's clear the industry is rethinking the meaning and value of apparel, and presenting practical solutions for a greener future.
Perhaps most importantly, brands, manufacturers and consumers are recognising how products must be valued based on their entire lifecycle, from the materials used, to their full recyclability. As the CFS+ agenda reflects, a big focus will be adopting the latest technology to limit waste, and smoothly extend the life of clothing and footwear for the good of the planet.
Supply chain visibility has landed
At Avery Dennison, fashion circularity excites us greatly, because we're confident our innovations can play a pivotal part in completing the loop. Our technologies offer the digital triggers, data management and applications to enable a level of supply chain visibility never seen before. Tracing raw materials and inventory allows businesses to create more efficient production decisions and track any unavoidable waste so that it can be embedded back in the system – fostering a truly circular economy.
Investment in textile recycling plants is happening, but we need integrated data to support the journey to circularity. Today, sorters have to manually separate materials into hundreds of categories or use infrared technologies to make assumptions on garments compositions. Putting a digital trigger such as an RFID label or QR code on a garment to hold standardised data, allows reverse logistic partners to automate the sorting
process.
Telling the garment's story to consumers
Another big challenge we're helping the industry overcome is inspiring consumers to play their part in prolonging a garment's lifecycle. With innovations such as care labels with QR codes for digital identification, it's possible to increase the percentage of items that are actually converted back into a new garment, which today is less than 1%.
As Sarah Swenson, Global Senior Sustainability Manager, Avery Dennison puts it: "By adopting a digital trigger on the garment linked to its digital identity, you can guide each of the relevant stakeholders in the garment's life towards environmental decision-making, increasing the likelihood of the garment having a second life."
Avery Denison recently launched a pilot project with LA-based recycler Ambercycle, which creates virgin quality yarn from old polyester clothes. The partnership is the first in a series of innovation-based collaborations, and involves Avery Dennison's Digital Care Labels being attached to Ambercycle's garments – in this case, a range of recycled T-shirts. Each label has a QR code that links to an app offering a digital 'post purchase experience' run by Avery Dennison's atma.io connected product cloud. This Digital Care Label details how that specific garment was produced and how it should be looked after, and recycled. The project's ambition is that 100% of the clothes made get recycled into new garments at the end of their life.
Designing without creating waste
Meanwhile, fashion designers are addressing waste in the design process, particularly in the area of oversampling, which has been a serious problem in the industry. Designers can undergo excessive rounds of physical sampling, resulting in textile waste, unnecessary carbon emissions and lost time. For this reason, many are seeking digital solutions as an alternative.
In July this year, Avery Dennison and pioneering 3D fashion solution Browzwear joined forces to address the need for virtual design solutions at the labelling stage. The collaboration allows designers to choose from a library of Avery Dennison's materials and fabrics to provide accurate visuals of its label solutions, believed to be an industry first. Designers can develop, preview and test label prototypes on garments through dynamic visualisations, produced in the Browzwear platform – a far greener way to manage the process.
The partnership highlights a shared vision of fashion driven by demand, not surplus, that the world's most innovative brands are looking to unlock.
Collaborate now for future wins
As our work and the CFS+ agenda confirms, collaborations across the industry are fostering change. Designers and brands need to team with manufacturers, textile suppliers, recyclers and tech specialists to keep the journey towards fashion circularity on track. "Our hope is that, as supply chain partners build new commercialised systems, the circular recycling process will become competitive with the linear consumption system, especially as risks to raw materials occur ever more frequently in supply chains these days," notes Sarah Swenson.
With compliance and ESG pressures ramping up, we need serious levels of transparency and practical processes in place to truly deliver on our climate action pledges. If brands can access data and have an oversight into what happens post-sale, the 'golden thread' of apparel product information is never broken, and amazing things can be achieved.
THIS ARTICLE WAS WRITTEN BY AVERY DENNISON – PRINCIPAL SPONSOR OF COPENHAGEN FASHION SUMMIT
1 https://www.globalfashionagenda.com/cfs/programme/
2 https://rbis.averydennison.com/en/home/digital-care-label.html
By Melanie Rickey
When it comes to creating sustainable fashion products, one of the biggest challenges today is: how do we disrupt profitable fossil-fuel reliant old ways of production, to find new sustainable net-zero methods that benefit people and planet?
Enter 2021's the Designer Challenge, the annual project from Global Fashion Agenda, which, this year, showcases the outcome of its yearly mission on October 7 during CFS+, the digital edition of Copenhagen Fashion Summit.
For 2021 the Designer Challenge sought to find solutions in sunglasses, one of the most over-looked products when it comes to sustainability in fashion.
The problems:
– Sunglass frames and lenses are mostly made of virgin plastic
– Plastic is created using fossil fuels and there are currently very few, small-scale technologies available to recycle sunglasses
– The market for sunglasses is expected to increase by 5.39% a year, faster than the overall rate of growth in the apparel industry which sits at 3.9%
With these issues in mind, the Designer Challenge set out to find a sustainable method and materials to create sunglasses that would show the wider industry that it can be done, and demonstrate to citizens that affordable and sustainable eyewear solutions are possible.
They invited the celebrated Grammy® award-winning singer, songwriter and actor Miguel Pimentel to be the designer facing what, this year, has been one of its trickiest tasks to date.
Miguel is not only a global musical recording and performance artist best known for celebrating his multi-cultural background, he recently launched Schedule 1 Concepts (S1C), a streetwear brand that utilises sustainable, ethics-driven practices in fashion production.
"I launched S1C because I couldn't find what I wanted to wear," says Miguel. "I know millions of people are trying to find the same thing as me without sacrificing their unique style. I want to be of service and educate people about why sustainable fashion is important and learn in the process. My belief is, if it doesn't exist, just make it."
"Sunglasses are one of my favourite items, you can use them to express yourself and protect your eyes. The function is there, and great sunglasses make a statement, they convey the energy of what you believe in."
Miguel brought his drive for sustainability to Global Fashion Agenda in partnership with Sunshine Bertrand, whose eyewear design studio is committed to evolving the eyewear category towards a more responsible future, and retailer LN-CC, which is a progressive retail concept, combining a unique art-based installation store in London and an online platform run with a forward-thinking approach.
Miguel's designs were inspired by sunglasses he has loved throughout his life; ones that feel right, now for Miguel and his 3 million strong community. Y2K Versace and Oakley, and the signature graphic black wraparound shades worn by rapper Eazy-E of N.W.A went into the design blender.
What emerged using the know-how of Sunshine Bertrand was a crystal clear Cat's Eye frame with mood-enhancing blue lenses, and two Televisioni inspired frames – one black with uplifting red lenses, the other tortoishell with sunny orange lenses – finished with etched SC1 logo on the wide set arm.
With designs created, all that remained was to get them made with sustainable materials, using production methods with minimal Greenhouse Gas Emissions (GHG).
The initial material selected to create the frames was the versatile Acetate RenewTM, from Italian manufacturer Mazzuccelli 1849, a sheet plastic made from virgin flake that is waste product from the plastic industry. For the lenses the team wished to use fully-recyclable glass lenses by Italian glass producers Barberini.
However, in both cases, a small production run was not possible due to minimum order quantities. In addition, the need for Schedule 1 Concepts to have costly certification in order to use Acetate RenewTM also prevented the use of this material for this challenge and held up production of the final frames. "For small businesses, minimum orders mean they often have to buy more than they know they can sell, resulting in waste," says Sunshine Bertrand. To complete the challenge, the team had to find different materials.
Mazzuccelli 1849 stepped forward with M49, their bioplastic made using cellulose acetate and a plasticizer of vegetable origin. M49 has been used to create the S1C frames. The mood-enhancing coloured lenses are Sunlens Sustainable Polyamide by Zeiss, which, while not 100% perfect, are an important step in the right direction as they use 39% bio-based materials, and their carbon footprint is 50% less than a standard lens. The Designer Challenge exposed the current barriers to producing sustainable sunglasses at scale, and that, particularly for small designers, it is difficult to overcome the red-tape set in place by large manufacturers.
The main learning from this Designer Challenge has been how much innovation and investment is still needed in the eyewear industry," says Christina Iskov Senior Programme Manager, Design and Innovation at Global Fashion Agenda. "I hope this Designer Challenge can be a call for action in the eyewear industry to offer more sustainable solutions to a wider audience."
Watch the outcome here:
"Redesigning the concept of growth is one of the biggest systemic issues of our time." – Her Royal Highness The Crown Princess of Denmark
Her Royal Highness The Crown Princess of Denmark, Tommy Hilfiger, Miguel, Yara Shahidi and leading speakers from the European Commission, Hermès International, Patagonia Inc., Ralph Lauren Corporation, NIKE, Inc., and many more shared their views at CFS+ 2021.
08 October 2021: CFS+ – the digital edition of industry renowned Copenhagen Fashion Summit, began yesterday and brought together leading fashion stakeholders, policymakers, NGOs and investors to drive urgent action on sustainability. Hosted by Global Fashion Agenda, a non-profit organisation that fosters collaboration on sustainability in fashion, this year's online event is centred around the theme 'Prosperity vs. Growth' and explores how the industry can thrive today in favour of tomorrow.
There was a clear consensus on day one of CFS+ that fashion can no longer operate 'business as usual' and that the current growth model is pushing the planet and people to its limits. According to Global Fashion Agenda's Fashion On Climate report, in 2018 the fashion industry accounted for 4% of global carbon emissions – an emissions' share larger than that of France, Germany and the UK combined, and according to the European Environment Agency, the textiles industry is the fourth highest pressure category in terms of resource consumption (after food, housing and transport). Yet, the global apparel market is projected to vastly grow within the next few years, which will only exacerbate issues. The Summit's action-focused dialogues explored the internal and external enablers required to alter fashion's growth trajectory to one that aims to preserve the environment and protect societies.
Federica Marchionni, CEO, Global Fashion Agenda said: ""Most business growth is still predicated on more people buying more goods, but these current business models are unsustainable. It is necessary that companies innovate new business models that deliver true stakeholder value, shape consumers' needs in line with planetary boundaries, protecting biodiversity, promoting safe work environment and better wage system. Change also requires innovation. We must harness new sustainable technology, materials and solutions that can revolutionise the industry. We have the greatest opportunity in recent history as we can design future pathways for us and for generations to come: "a code green for humanity", a "bright place for social justice". These are the pathways everyone can follow."
HRH The Crown Princess of Denmark, patron of Copenhagen Fashion Summit and Global Fashion Agenda, said: "When picturing a post-pandemic fashion industry, inspiration can also be found within existing tools and technologies that will move from idea to reality and from pilots to wide-scale adoption. However, in a time when new technology is disrupting traditional business models, and upcoming legislation will increase regulation in the industry, businesses and organisations need to think and act differently when it comes to 'growth', business models and systemic change. Redesigning the concept of growth is one of the biggest systemic issues of our time."
Esteemed speakers took part in agenda-setting discussions
The event attracted hundreds of guests from across the globe and the content was hosted by revered actor and presenter Amelia Hoy. Over 60 high-level speakers participated in panel discussions, keynotes, case studies and one-to-one conversations. The programme covered over 20 discussion topics including innovation vs. legacy, consumer vs. citizen, value vs. volume, scale vs. circular, equity vs. equality and more.
Speakers included: Her Royal Highness The Crown Princess of Denmark | Tommy Hilfiger, Principal Designer, Tommy Hilfiger Global | Patrice Louvet, President & CEO of Ralph Lauren Corporation | Miguel, GRAMMY® award-winning singer, actor and founder of S1C | Olivier Fournier, Executive Vice-President Corporate Development and Social Affairs, Hermès International | Jenna Johnson, Head of Patagonia, Inc., Patagonia | Yara Shahidi, model, actor and change agent | Virginijus Sinkevičius, Commissioner for the Environment, Oceans and Fisheries, the European Commission | Debbie Shakespeare, Senior Director Sustainability, Compliance & Core Product Line, Avery Dennison RBIS | Zinnia Kumar, Founder, The Dotted Line | Maria McClay, Director Google Cloud, Fashion & Beauty, Google Cloud | Andrea Baldo, CEO, GANNI and many more.
View the full speaker list here and find select quotes from CFS+ speakers in the notes below.
Today, Global Fashion Agenda will facilitate six leadership roundtables, where over 90 select fashion leaders, NGO representatives and policymakers will meet to discuss the fashion industry's most pressing sustainability issues and to collaborate to push the agenda forward. The roundtables will cover a diverse range of topics including: designing a sustainable products initiative, how precompetitive collaboration can scale circular systems in fashion, the sprint marathon to net zero, the EU Textiles Strategy in the global context, preferred fibres, and the potential of internal carbon pricing.
The outcomes of the discussions at CFS+ will feed into Global Fashion Agenda's work to provide concrete guidance on accelerating change.
Tackling the eyewear industry in this year's Designer Challenge
As part of CFS+, the celebrated global musical recording and performance artist, Miguel, tackled this year's Designer Challenge – an annual activation that matches style and ingenuity with supercharged tech solutions. The GRAMMY® award-winning singer, actor and founder of S1C  (Schedule 1 Concepts), collaborated with Global Fashion Agenda and SUNSHINE BERTRAND to create a responsible pair of sunglasses. The process was unveiled during the event in a short film and the collaborators discussed their learnings from the challenge in a case study.
View the video and read more about the Designer Challenge here.
Digital Innovation Forum connected fashion companies with sustainable solution providers
This year's CFS+ also presents a digital Innovation Forum, enabling small and large companies to meet with 46 sustainable solution providers – equipping them with the tools to turn words into meaningful actions. The solutions address challenges across the supply chain, providing new ways for brands to progress their sustainable journeys.
QUOTES FROM OTHER LEADING SPEAKERS:
Virginijus Sinkevičius, Commissioner for the Environment, Oceans and Fisheries, at the European Commission on the EU strategy for sustainable textiles: "As a sector, it's in your interest to become more resilient and more resistant to global shocks. This is the thinking behind the European Green Deal. The new drive for a different form of growth – more sustainable, carbon neutral, kinder to nature and built around the circular economy…The circular transformation will touch the whole of the society and I'm sure textiles will play a major role in the process."
Patrice Louvet, President & CEO, Ralph Lauren Corporation, on designing a thriving fashion industry that takes action on sustainability: "We can create value for all stakeholders and a deeper connection with employees, more compelling stories for our customers, and a more resilient business overall when we integrate sustainability into everything that we do."
Tommy Hilfiger, Principal Designer, Tommy Hilfiger Global, on Consumer vs. Citizen: "We want to be leaders and we want to set great examples, and the more knowledge we have about how people are thinking and about how they are feeling and what is going on in the world of pop culture, the more informed we are and therefore, the better we are going to be at what we do."
Yara Shahidi, model, actor and change agent, on Consumer vs. Citizen: "It's the acknowledgement of the space that fashion takes up in our world, as both a creative force but also a force for change, something that unites us and something that brings us all together."
Felicia Mayo, Chief Talent, Diversity & Culture Officer, Nike Inc., on Equity vs. Equality: "Creating an equitable future for all begins with recognising the intersection of climate and community. In order for our planet to thrive, we must continue to address people and planet, together."
Olivier Fournier, Executive Vice-President Corporate Development and Social Affairs, Hermès International, on Innovation vs. Legacy: "We should not talk about innovation without talking about freedom of creation, because freedom of creation is at the core of our strategy, as we need a strong link and a dialogue between the creators and the makers, to make sustainable objects."
Jenna Johnson, Head of Patagonia, Inc., on Innovation vs. Legacy: "If we can get companies to make less, what that means ultimately is the onus becomes on buying higher quality and companies committing to quality and durability at the heart of what they do."
Tim Jackson, Professor on Prosperity vs. Growth: "My exploration of post-growth is the idea of thinking about a situation where our economies are maybe more dedicated to what it means to flourish in human terms and less dedicated to just chasing after continual economic expansion and continual growth the whole time."
Debbie Shakespeare, Senior Director Sustainability, Compliance & Core Product Line, Avery Dennison RBIS: "Consumers have become mindful of their choices, calling for more sustainable, transparent, and traceable garments across the supply chain. In order to prosper from this, it is no longer a one-sided equation. All industry actors need to move from policies to action in addressing environmental and economic actions for the full supply chain. This will require collaboration, innovation, and dialogue moving to action."
CFS+ is proudly supported by Principal Sponsor, Avery Dennison.
#CFSPlus #ProsperityvsGrowth
Dear GFA Community,
As we usher in 2023, I want to take a moment to extend my warmest wishes for the new year and to thank you for your unwavering support throughout 2022. It is thanks to your dedication and commitment to our cause that we have continued to build a thriving and global GFA community.
2022 marked a pivotal year for GFA; we hosted our Summit outside of Copenhagen for the first time in its 13-year history, announced landmark alliances and partnerships, launched new impact programmes and published collaborative reports.
Amidst GFA's breakthrough announcements and developments, 2022 was undeniably also shadowed by extreme weather events, uncertain economic landscapes, geopolitical strife, and both environmental and social challenges. These adversities exemplified the need for GFA to keep working towards its mission of a net-positive fashion industry, that gives back more to the natural world, people and societies and the economy than it takes out. Every industry is navigating the repercussions of such turbulent times, but it is imperative that we remain strong-minded and united in our ambitions for a better future.
As we look ahead to 2023, I want to emphasise that the changes you now make, individually or collectively, can have impact well beyond the fashion industry. Let's lead by example and inspire other industries by demonstrating the many opportunities that can be created when we steer our impact strategies with a net-positive mindset and collaborate with actors across the value cycle.
I wish you all a wonderful festive period full of gratitude and hope. We very much look forward to continuing to inspire, educate and mobilise the industry in 2023 to generate even greater impact.
Best wishes,
Federica Marchionni, CEO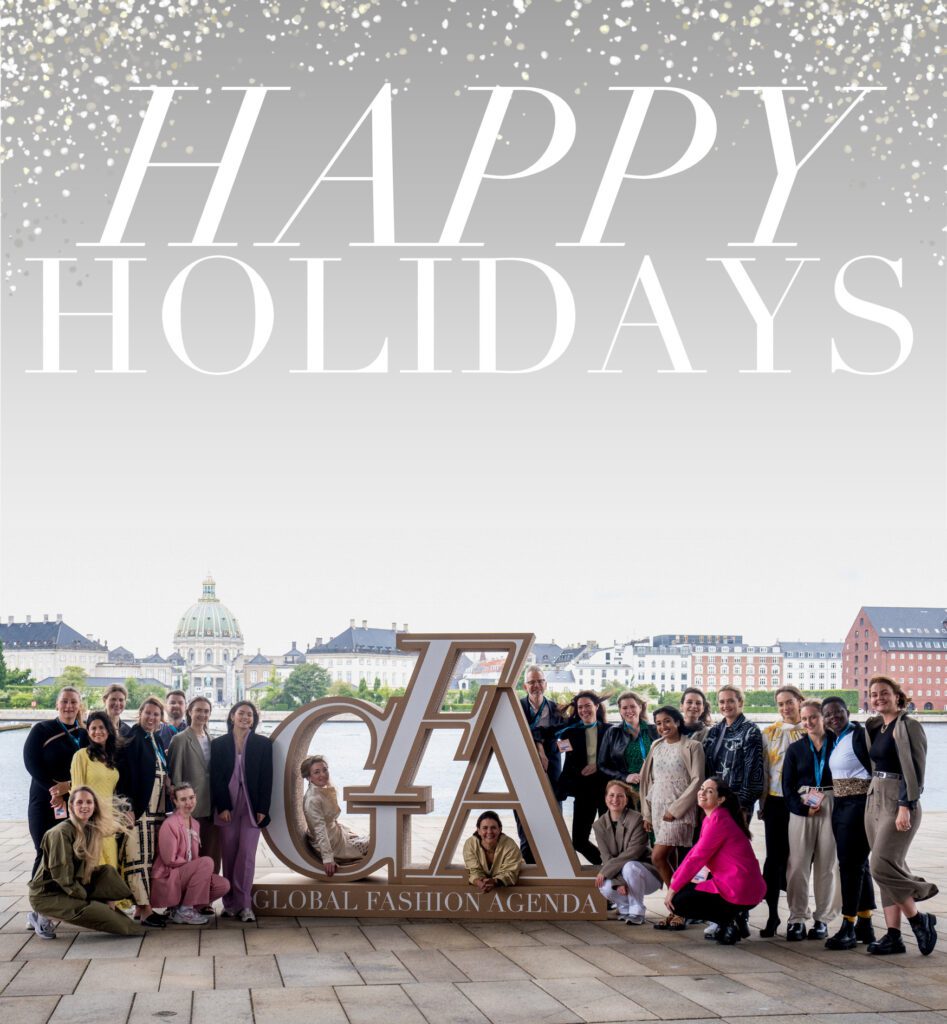 Read our latest article exploring what happened in the fashion industry in 2022 here.